Outdoor Signs
We create customized outdoor signs - including billboards, banners, and directional signs - for businesses throughout the DFW area.
Vehicle Products
Whether you want to advertise your business or customize your ride, we can design & install unique wraps, decals, & more for your vehicle.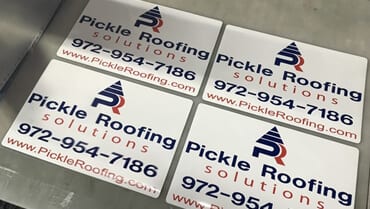 Magnets
Personalized magnets are great for business advertising or as gifts. We can design & print magnets in any size and for any purpose.
WHY CHOOSE SIGNS BY RANDY
When it comes to professional, immaculate, and eye-catching graphic design for outdoor signs, decals, banners, and storefront signs, no one does it better than Signs By Randy. Established in 1990 by Randy Rice, Signs by Randy has made itself known in the signage industry for both commercial and personal use.
We put our clients at the heart of all our designs and create a product that is high-quality, made to last, and shows off the pride that our client has in their business. We have a keen eye for detail, making us one of the trusted companies when it comes to car wraps and window graphics.
If you are looking for fast, professional, friendly, and awe-inspiring designs, then look no further than Signs By Randy. We are passionate about helping the people of Plano, Texas show off their individual style and business pride. If you need an outdoor sign, decal, car wrap, or window graphic, make sure you put your trust in Signs By Randy.
Commercial Signs & Banners
From design to printing to installation, we take care of all processes related to the production of outdoor signs and banners.
See More
Vehicle Wraps
We design and apply car wraps that add a unique appeal to personal or company vehicles.
See More
Decals & Promotional Items
Whether you're looking for decals for your car, windows, or walls, we can design and seamlessly apply them for you.
See More
Services
We perform all tasks related to the products we offer, including graphic design, vinyl printing, sign installation, and more.
See More