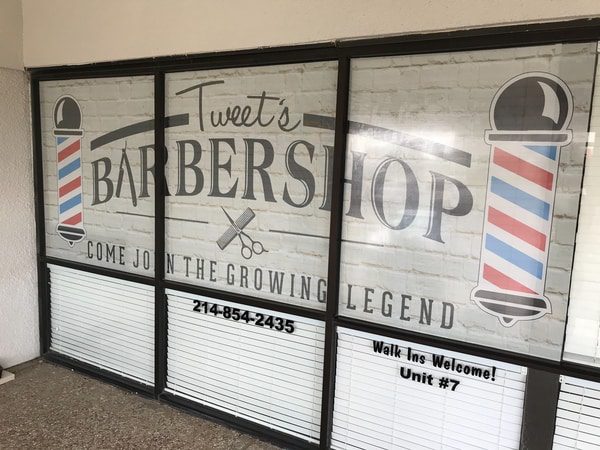 Barbershop Signage in Plano, Texas
When people look their best, they feel their best. Signs By Randy understands this sentiment, and we also believe that immaculate outdoor signage is the best way to bring in consumers. Whether your barbershop is looking for storefront signage to help attract consumers or banners inside to show off new products, our team can help. Here are the different types of signage that we offer barbershops in the Plano, Texas area.
Storefront Signage for Barbershops
Outdoor signage is the best way to help consumers find your business by clearly marking your store. Whether your barbershop is in a standalone building or is part of a strip mall, storefront signage will help attract attention from foot traffic and bring them in for their next haircut. 
Signs By Randy offers unparalleled customizable storefront signage for your barbershop. From the graphic design to the installation, our team handles it all. We offer the following types of storefront signage:
3D lettering
Lit logo signs
Halo lit letters
Face & halo lit letters
Lit decor
Lit cabinet cigns
Lit cabinet double face
Reverse lit
Back lit
We start each job by asking you what your goals are for your outdoor sign. Then, we craft the initial design. We'll help you choose the perfect style, look, and framing for your outdoor signage to ensure that it looks good and adheres to local business codes. Our team then designs, builds, and installs your signage in your building, ensuring that every aspect is perfect.
Banners for Barbershops
Banners help promote new products, hairstyles, or specials that your business has. Signs By Randy can help you create a banner that attracts attention, displays all important information, and encourages passers by to walk into your business or contact you for more information. 
Banners can be used inside for promotional information or for outdoor advertising, allowing your consumer to more easily find you and learn more about what your barbershop has to offer.
Barbershop Window Graphics
Window graphics are a great way to display important information and give consumers a glimpse inside your store. Barbershops can use window graphics to show off their logo, promote new hair care products or shaving accessories, or share changes in important information such as business hours. Another great aspect of window graphics is that they encourage passers by to look at your business. A catchy window graphic could lead them to taking a closer look inside the store, see the amazing work your barbers do, and decide to come inside for your services. 
Put Your Barbershop's Best Foot Forward With Custom Barbershop Signage
Make sure your barbershop stands out day and night with incredible outdoor signage from the team at Signs By Randy. Our graphic designers and installers are more than happy to bring your ideas to life by working with you to create your dream custom barbershop signage. Contact us today for more information on our outdoor signage services or to schedule an appointment with our design team.