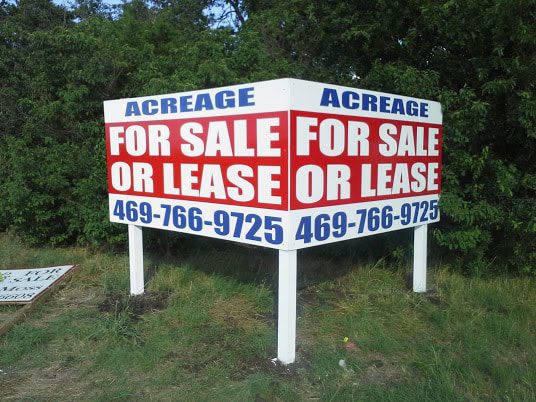 Custom Real Estate Signs in Plano, Texas
Today's housing market is on fire. With homes selling on average only 13 days after they hit the market and an average competitive nine offers on each house, real estate agents are looking to keep their inventory moving. One of the best ways to attract potential buyers is through professional real estate signs that capture the eye and encourage them to reach out.
Our team offers customized real estate signage for real estate professionals and agencies. Whether you are looking for a yard sign to show that a particular property is for sale or need directional signs to promote open houses, we can make it happen. 
Real Estate Corrugated Plastic Yard Signs
Corrugated plastic yard signs are a great choice for standalone agents looking for an affordable option. Ridges of plastic create channels for wire stakes to stick through and keep the sign stable. Durable and weather resistant, these types of signs are perfect for real estate.
Corrugated plastic yard signs tend to be about one-sixth-of-an-inch thick, although thicker versions are available.They can be used to promote an open house or provide contact information outside of a home so that potential buyers know how to contact you.
Corrugated Directional Signs
These signs provide a great low-cost option to point people in the direction of an open house. You can add information such as the open house's date and time as well as a directional arrow to convey information quickly. Follow up corrugated directional signs with a more detailed real estate sign on the property to make sure potential buyers have all the information they need to contact you.
Aluminum Real Estate Signs
Aluminum yard signs are built to last, rust proof, and weather resistant, making them some of the sturdiest types of yard signage. They are also lightweight and easy to move.
The glossy finish of aluminum real estate signage helps colors pop. Plus, aluminum signs are large enough to include information such as your agency, phone number, and email address, making them reusable. Held up by posts, they can be installed in either grass or dirt.
Other Signage That Realtors Can Use
Signs By Randy offers a wide variety of signage that real estate agents can use to sell homes, garner attention, and promote their services to homeowners looking to sell. We offer the following smaller signage to aid your real estate needs:
What Materials Can Realtor Signs Be Made From?
Signs By Randy offers several different materials for real estate agents to choose from. Whether you are looking for a thick sign built to last or something reflective to catch the attention of passersby, our team has options for you. We offer the following materials for our outdoor real estate signage:
Aluminum
Corrugated plastic
PVC
Steel
Styrene
What Information Should Be Included In My Real Estate Sign?
Your signage should be aesthetically pleasing and convey important information up front. Too many details will make your sign look busy and too little information could lead to individuals simply driving by. We recommend including only the most essential information on your signage, such as:
Your name
Your contact information
Your agency, if applicable
For an open house, date and time
For riders, a short quote that provides context for the rest of the sign, such as "For Sale" or "Open House"
Sell More Homes With Professional Real Estate Signage
Signs By Randy is happy to support the real estate agents of Plano, Texas, and the surrounding communities. Our customized signage will help you get your information out in a quick and aesthetically pleasing manner. Make a lasting impression and contact Signs By Randy today!