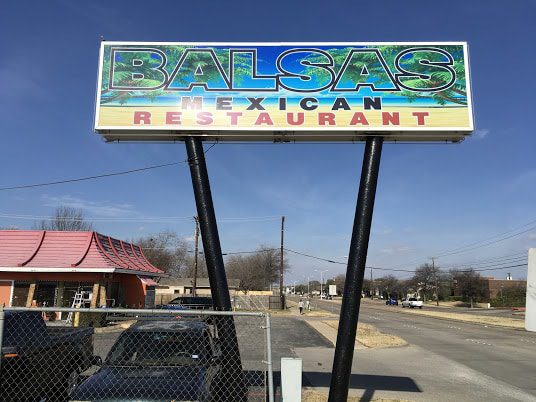 Signage For Restaurants in Plano, Texas
Restaurants are more than just a place to eat out. They are used to celebrate important life events, get together with friends, and go on first dates, among other things. Plus, eating at a restaurant means you don't have to worry about cleaning up after eating!
Attract more people to your restaurant with custom signage so they can celebrate these big events with the good food and atmosphere you provide. A restaurant's outdoor signage is one of the first things someone sees as they drive down the road. You want yours to catch attention with fonts and colors that speak to your brand and give a strong first impression.
When it comes to making the perfect signage for restaurants, Signs By Randy is Plano, Texas's go-to choice. Our graphic design and installation teams ensure that your restaurant or roadside signage attracts the attention of customers and brings you more business.
What Types of Outdoor Signage Work Best for Restaurants?
The purpose of an outdoor sign is to attract the attention of potential customers or make people aware of your location. There is a wide variety of different signage that can work for these purposes. These include but are not limited to:
Commercial signage with specialty lettering: Perfect for businesses that want a storefront sign with their logo, bold 3D lettering to grab attention, or elegant lettering that speaks to the high quality of the food.
Lighted storefront signs: Lighted signs are great for businesses that may be in darker areas or are competing with a lot of surrounding businesses. Lighted outdoor signs ensure that your clientele can see you even when it's dark outside.
Banners: Ideal for promotions and spreading awareness about special events.
Window graphics: Windows create the ideal advertising space and can be a great first impression to attract customers with images of the food or even about new promotions.
Need Help Creating Your Custom Restaurant Outdoor Signage?
Signs By Randy offers custom signage services to the restaurants of Plano, Texas, and surrounding areas. We can help you create a multitude of different signs, from banners to lighted signs, to get your brand out there and bring people to your doors. Put your best foot forward with a remarkable custom sign from Signs By Randy. Contact our team today for more information or to schedule an appointment with our design team.