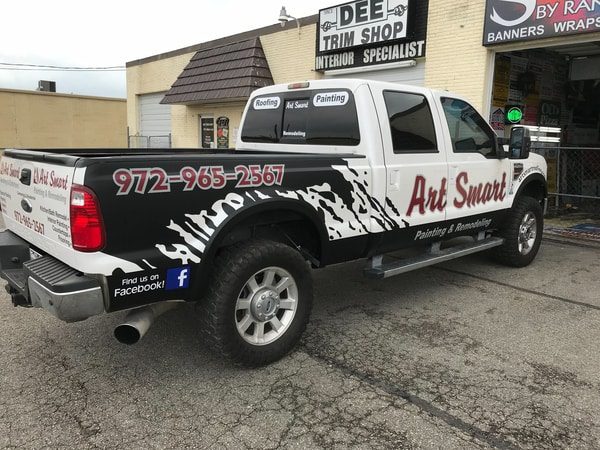 Vehicle Wrap Company in Plano
Whether you're looking for a car wrap for business or personal use, it pays to find a company that provides outstanding service. That's exactly what we offer at Signs By Randy. For over 30 years, our family-owned business has been providing custom car wrap services for business and non-business customers throughout the Plano area. Companies that want to advertise on the road and consumers who want to give their personal vehicle a new look have relied on us to create custom car wraps in the designs they choose.
Our team has the experience and in-depth knowledge required for providing customers with great designs and style suggestions. From company logos to personal flair, we strive to make sure that each of our customers ends up with the perfect design for their business or personal vehicle. Signs By Randy uses high-quality printing equipment to create these wraps once they've been designed. This results in you getting custom car wraps with incredible detail and a flawless appearance. We work hard to make sure that all our customers are fully satisfied with the wraps we design and produce.
Car Wraps for Advertising
As a business owner, you know how important it is to advertise your company's products or services to the public. When your company vehicles are covered with a custom car wrap, anyone who passes them will be able to see your company's name and phone number. That can make it easier for you to gain new customers without stretching your marketing budget.
In order to be effective, you'll have to make sure that your custom car wraps are of excellent quality. This is where Signs By Randy comes in. Our family owned and operated company in Plano makes custom car wraps for cars or trucks that are expertly designed and printed. Our car wraps can feature your company name and phone number displayed in a large font so that this information is simple to read. We can also include the kinds of services you offer right on your company vehicles, providing customers with even more information about your business. When you use our custom car wraps for advertising, you can expect your business to keep booming.
Refresh Your Car's Look with Custom Car Wraps
Are you tired of the way your car looks? You don't have to invest in a brand new paint job to renovate its look. Instead, consider having a custom car wrap put on it. These wraps can give your car a whole new look without you having to spend time and money getting a new paint job and finish. At Signs By Randy, we can help you create an exciting new appearance for your car with a carefully designed car wrap.
Sit down with our experts and we can go over any design ideas you have for your car. Is there a certain theme you would like included in your design? Are there particular colors you want to be used for your car wrap? If you're unsure about what you want, you can throw some ideas our way, and we'll come up with design recommendations for you.
When the design phase is done, we'll get to work on creating your custom car wrap. No matter what colors, style, or design you end up choosing for your wrap, our team of professionals will make sure that the finished product has a high-quality look that will enhance your car's appearance overall. As you drive around the Dallas area with your new car wrap in place, you'll make a great impression on others.
If you're considering car wraps or other vehicle advertising products for commercial or personal use, contact Signs By Randy in Plano. We'll give you a free estimate, along with additional information about our car wrap services.