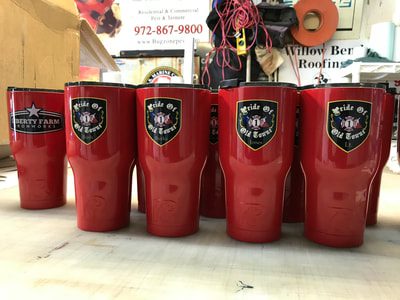 Plano Custom Vinyl Decals Company
When you're looking for a place that makes high-quality custom vinyl decals, Signs By Randy has you covered. Our company – which is family owned and operated – has over 30 years of experience in designing, printing, and applying decals of all kinds of shapes and sizes for customers throughout the Plano area. Whether you plan on using your decals for your own personal use or to advertise your business, our team can work with you to make sure you get the design you want.
Our custom vinyl decals are made of quality materials, so you can be sure that they will stick to whatever surface they're put on. This means you won't have to worry about having to get yours replaced anytime soon. We're here to help you with all of your custom vinyl decal needs.
Window Graphics
Window graphics can have a big impact on a company's growth. These graphics offer a highly effective way to get attention from prospective customers who are passing by your business. When you have a visually stunning design for your window graphics, you'll draw the eyes of anyone who walks by, which can end up leading to interest in your company and an increase in the number of customers you get.
Signs By Randy can design and print window graphics that make a positive impression on current and potential customers. Let us know what sort of design you have in mind for your windows, and our team will work hard to make that vision happen. We will also take care of applying these window graphics with expert care.
Vinyl Wall Decals
When you want a way to spruce up your business while also drawing attention to your logo, vinyl wall decals are a perfect choice. These decals go on seamlessly and can liven up an otherwise plain wall. You can have vinyl wall decals made with a simple yet striking design, or choose a more complex design for an even more impressive look. Whether you opt for a decal that simply has your company's logo on it or a larger decal with other imagery, Signs By Randy can create and print it for you.
Our team is ready to meet with you to discuss your vinyl wall decal ideas. When your decals are ready, we can come to your business and apply them for you. We look forward to helping you dress up your walls and improve customer experience.
Custom Car and Truck Decals
If you're interested in getting custom car or truck decals for your personal or commercial vehicle, you can depend on Signs By Randy for quality products. Just let us know what kind of design you want for your decal, and our team will handle the design process. After showing you what we can do, we'll get started on creating your custom decals for your car or truck. Whether you want decals that highlight your personal interests or display your brand name, you can count on us to make high-quality decals for you. When we have your decals ready, we can also handle the application process. Once we've applied your custom decals, your truck or car will have a more visually striking appearance.
Decal Stickers for Businesses
Giving customers a small item as a way to say thanks for their business or their interest is a great way to market your company. You don't have to give customers anything elaborate or expensive; instead, consider passing out decal stickers for your business. These stickers provide customers with an easy way to remember your company. You can also use decal stickers around your business as a way to display your company logo or important information.
No matter what you plan to use these decal stickers for, you can rely on Signs By Randy to create outstanding ones that you'll be proud of. We'll assist you in coming up with the right design for your decal stickers, then make them for you using quality materials.
If you're looking for decals for your business, contact Signs By Randy today for a free estimate. Call us at 972-424-6424 for more details on our decal services for customers in the Plano area.