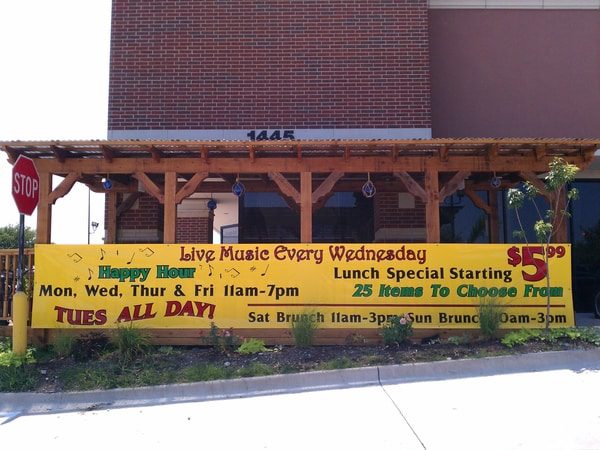 Outdoor Signage in the Plano Area
Outdoor signs are a necessity for businesses, especially for advertising and marketing purposes. When you're looking for high-quality outdoor signs in Plano and throughout the Dallas area, Signs By Randy is here to help. From custom banners to wayfinding signs and roadside billboards, we can handle all of your company's outdoor signage needs. Our team has many years of experience in designing and creating signage for a wide range of businesses and organizations around the area. From design to printing to installation, we can handle every aspect of sign making so that you'll end up with exactly the sign that you need.
Banner Design and Installation
Custom banners can call attention to special events or advertise your company's products or services. They are an affordable way to market your business during a specific period of time – such as for an annual event – or on an ongoing basis. Signs By Randy offers banner design and installation services for commercial customers in the Plano area and throughout Dallas. We can provide banners with the exact size and design you need for your business or event.
Our company also handles the installation process for custom banners. As soon as we have your banners designed, printed, and ready to go, our team will take care of installing them for you. Just let us know where you want your banners to go, and we'll make sure they're all set up. We're here to give you a hand throughout the entire process, from the earliest stages of design to the final installation step. When you count on us, you can rely on getting custom-printed banners that feature an expert design.
Billboard Design and Installation
Having a billboard display can drastically affect the number of customers who learn about your business. Billboards are designed to attract as much attention as possible, especially when they are near roadways. Whether you want to get the word out about your products or services or you have an upcoming special event that you're advertising, Signs By Randy can get you set up with a custom billboard. Our experts will come up with a great design for you and then print it using high-quality equipment and materials.
Signs By Randy also has outdoor signage professionals available to install your custom billboard for you. When your billboard is ready, we'll make sure that it's put in place safely and properly. Our company has been providing these services for Plano area commercial customers for decades. When you come to us for a custom billboard, you can expect to get one that reflects your design preferences and serves as a powerful way to advertise your business.
Directional and Wayfinding Signs
Directional signs help your customers figure out where to go when they visit your business. Whether you need these signs to point out parking or the way to the front entrance, we're here to help. We can also create directional signs that serve as outdoor directories if you own a commercial building. These signs help ensure that customers don't get lost or become confused about where they need to go.
Signs By Randy can also create menu boards in addition to wayfinding signage. These boards are essential for dining establishments to have outside their restaurant. Whether you need a wayfinding sign or two for your business or a menu board for your restaurant, Signs By Randy can handle the entire project from initial design to installation.
Real Estate Signs
At Signs By Randy, our outdoor signage experts understand the importance of having real estate signs that both draw the eye and provide clear-cut information for residential and commercial property buyers. When your real estate business needs high-quality signs to post on available properties, you can rely on us to help you out. We can create real estate signs that feature your company name and logo, as well as your phone number and any other relevant contact information.
Keep in mind that these signs also raise awareness of your real estate business among buyers in general. Even if buyers aren't interested in a particular property, they'll still see your company name and logo, which could lead them to contact you for information on other properties. That's why it's so important for your real estate signs to make a great impression – and we can make that happen.
If you're interested in banners, billboards, or other outdoor signs for your business, contact Signs By Randy at 972-424-6424 for a free estimate. We provide high-quality signs to customers throughout the Plano area.