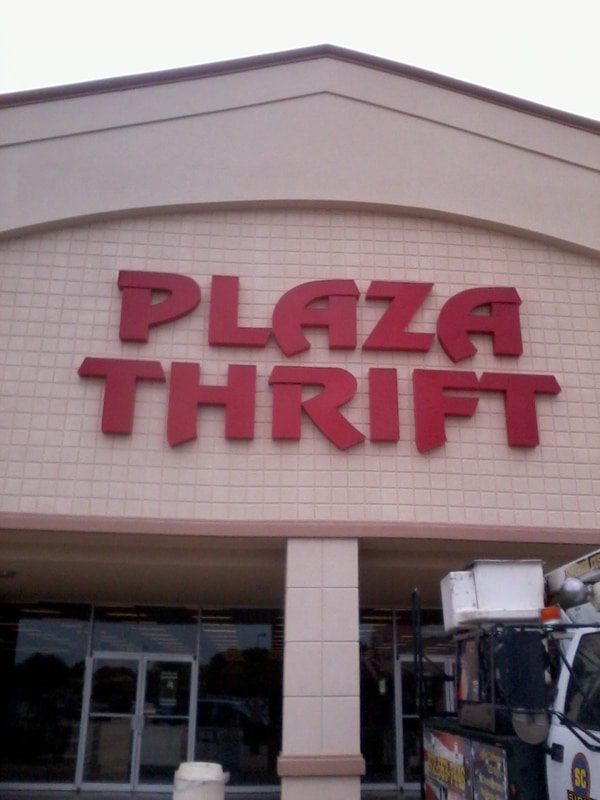 Retail Signage in Plano, Texas
Signage is an extremely important part of retail. It communicates information on sales, directs customers where they need to go to get the goods/services they need, and it can also pique interest, bringing in foot traffic that might have otherwise passed on by. High-quality signage is an effective and cost-efficient way to increase sales and communicate with your clientele.
Signs By Randy is the go-to resource for eye-catching signage in Plano, Texas, and the surrounding area. Whether it is storefront signage you need or smaller signage to communicate sales or direct consumers, our team can make it happen. With years of experience under our belt and a keen eye for detail, our designers can create custom signage that is sure to catch the eye of anyone who passes. Here is more information on our retail signage services:
Understanding the Importance of Retail Signage
Retail signage is a graphic display designed to communicate a message to the targeted audience. This message can be about a sale, an advertisement for a new product, or directional signage to fitting rooms, restrooms, or other parts of the store.
According to a study conducted by the Sign Research Foundation, 60% of businesses reported that their average sales increased by 10% after they added or updated their store's signage.
When it comes to retail signage, there are many different shapes and sizes that owners can choose from, which can make deciding which is the best for your needs a bit daunting. The team at Signs By Randy is more than happy to sit down with you and discuss your options to help your retail signage work for your particular needs. These needs can be broken down into three separate categories:
Advertising and Marketing Retail Signage
These types of signs can include large-scale outdoor signage such as billboards to bring in traffic off the interstate or surrounding towns. Banners can be hung around town or shopping centers, nearby school events, or even at fairs to help bring attention to your store's goods/services and location. They can even be used to display information about upcoming events or sales that your store is having or to show off a new product. 
Other attractive advertising and marketing signage can include decals for cars and windows that can easily be passed out at events. These types of signage are effective in gaining attention and can keep your business at the forefront of your consumers' minds, even when they walk away.
Signage to Bring in Foot Traffic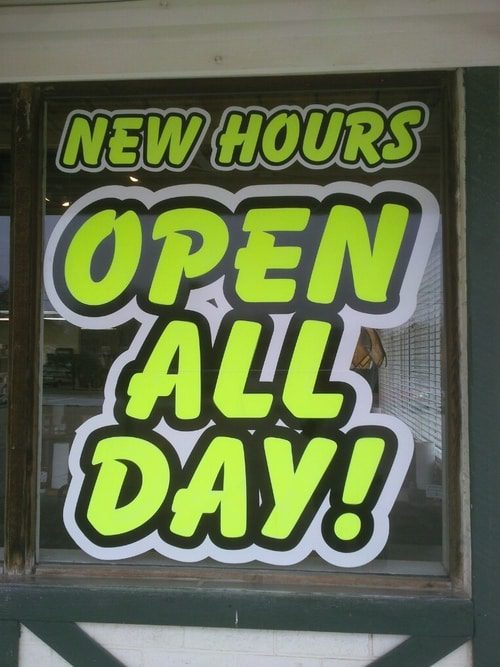 Outdoor signage, such as storefront signs, is extremely important. According to the Sign Research Foundation, 61% of consumers say they failed to enter a store because they couldn't find it, due to the storefront signage not being big enough or clear enough.
First impressions matter, which is why it is extremely important that your store's storefront signage makes a lasting first impression. It needs to show the character of your business without being too flashy or extravagant which can make it muddled and hard to read. It needs to be able to be seen from a distance and able to be seen at night.
Signage to Direct Foot Traffic
If your store is large, such as a department store, or the layout is a bit complicated due to the lack of space, foot traffic signage is extremely important. Your customers shouldn't feel aggravated by not knowing what direction to go to find what they are looking for. Wayfinding signage ensures that they can spot what they are looking for and be easily guided to their destination. With less stress, your consumers are more likely to make a purchase.
Wayfinding signage makes use of visual graphics, such as arrows or commonly known symbols, and bold lettering to help grab your consumers' attention. Even signage on product displays can be useful in directing your consumer, as they not only show off a product but where to find more products like it in your store. These types of visuals help pique interest and can lead your consumer in deeper, increasing the likelihood that they will find something they like.
What Are the Different Types of Retail Signage?
There are five different types of retail signage that you should consider for your business:
Digital Signage: Displays video or multi-media content for advertising and informational purposes. Changes can be made quickly through a content management system. 
Outdoor Signage: Designed to get customers in the door by showing off the best of your brand, creating a strong first impression that gets them to walk in instead of walk by.  Outdoor signage can be the following:

Storefront signs
Banners
Billboards
Murals
Awnings
Window Signage/decals

Informational/Directional Signage: Help consumers navigate your store more easily, allowing them to find what they came in for.
Persuasive Signage: Signage that is designed to convince consumers to take action through convincing language or attractive images. This could be sale signs, advertisement promotions, or displays inside your store.
ADA (American with Disabilities Act) Compliant Signage: Every store is required to offer accessible entrances, parking, restrooms, and cashier stations for disabled customers. These features need to be marked so that consumers know where to find the aid they need to move around your store easily.
Need Customized Retail Signage?
The team at Signs By Randy is dedicated to ensuring that your business succeeds by offering unparalleled custom signage design and installation services. Whether you are looking for a new outdoor sign to help consumers find your business or a banner to show off a new promotion, we have the knowledge and experience to help catch your consumers' eye. Contact our team today for more information on our retail signs or to schedule an appointment with our design team.