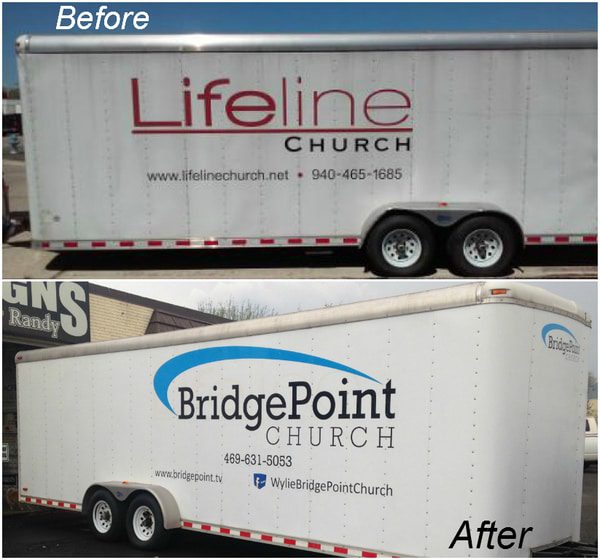 Vehicle Advertising Products in Plano, TX
Using custom vehicle products – such as car wraps or window decals – on your commercial vehicles helps you make more consumers aware of your company and the kinds of products or services you offer. While your company vehicles drive around the Plano and DFW area, potential customers will see the name of your company and the services you offer displayed. When you include contact information and a word or two about the kind of company you are, you can expect to see your business grow. Signs By Randy can provide you with high-quality, custom vehicle products to benefit your business.
If you're looking for wraps, magnets, or decals for your personal vehicle, we provide those as well.
Car Wraps
Car wraps are designed to cover large areas of your vehicle; in fact, these wraps often cover the entire vehicle. When you have a custom car wrap on your car or truck, you can be sure that others are noticing the name of your company. You can even end up getting calls from interested customers when you have your business phone number displayed as part of your car wrap. Signs By Randy offers quality car wraps for a wide range of businesses in Plano and throughout the Dallas area. When you turn to us for your custom car wrap needs, we'll make sure that you have an expertly-designed wrap that draws attention to your business.
If you're looking to add new color or design to your personal vehicle, we can wrap those as well. Whether you want to rejuvenate your car's color without repainting or you want stripes running down your sports car, we can take care of designing, printing, and applying your car wrap.
Car Magnets
Adding magnets to your car is an easy way to put your company name on display as you drive around town, which helps more and more people become aware of your business. These vehicle magnets can feature an eye-catching design and large lettering that makes it easy for others to see. Signs By Randy offers custom car magnets for trucks and cars so that local business owners can market their products or services throughout their service area.
Our team can create the ideal design for your car magnets and get them printed quickly for you. Once you have your custom magnets, you can start marketing your business to others just by driving around town. Our family-owned company looks forward to helping you create the perfect design for your car, truck, or van magnets. We use high-quality materials for our car magnets so that they'll last a long time.
Car Body Decals
When you don't want to invest in a car wrap or use magnets, car body decals offer a good alternative. These decals easily stick to the surface of your vehicle and keep your company name displayed as you drive around the area. We can also make decals for personal vehicles so that you can show off your style without getting a complete car wrap. You can have decals made in any size you need and with any design you want. No matter what design you choose for your car body decals, Signs By Randy can create them.
Car Window Decals
Car window decals are a great option to choose when you want to show the name of your business without taking up space on the doors or other large surfaces. If you are hesitant about putting decals or wraps on the painted surfaces of your car or truck, you can use car window decals instead. These smaller decals simply stick to the surface of your windows so that you don't have to worry about damaging the paint on your car. You can also use window decals along with body decals or other vehicle products to market your business on the road.
Signs By Randy offers superior car window decals with impressive designs and outstanding quality. When you work with us, you'll get high-quality custom car window decals for commercial use.
Looking for vehicle wraps, decals, or other products for your car or truck? Contact Signs By Randy at 972-424-6424 today. We'll answer any questions you have about our vehicle products and give you a free estimate. Signs By Randy offers these services to customers in Plano, Richardson, Allen, Frisco, Garland, and Murphy.