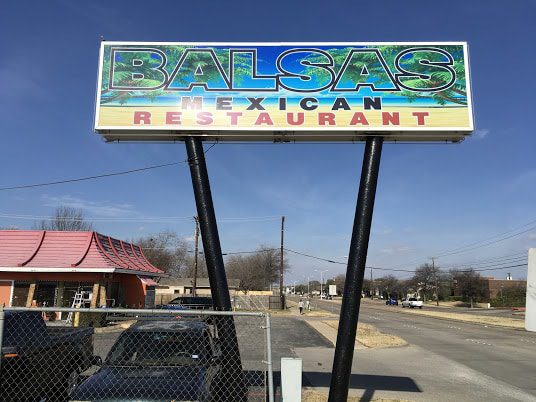 Plano Billboard Company
Billboards provide your business or organization with a highly visible way to promote your services and products or let the public know about special events. Since billboards are meant to attract a significant amount of attention due to their size and placement, it's important to ensure that they are as high-quality as possible. At Signs By Randy, you don't have to worry about having custom billboards that make a bad impression. We have decades of experience in designing, printing, and installing billboards for customers in the Plano area. Our family owned and operated company can work with you to create the ideal billboard for your business or organization.
Billboard Advertising
There are several factors that go into getting a custom billboard for your business or organization; that's why you need to make sure that you are working with a Plano area billboard company that offers exceptional quality and attention to detail. When you hire Signs By Randy for your custom billboard, you can rest assured that we'll come up with the right design, provide high-quality printing, and see to it that your billboard is properly installed. Our company has more than three decades of experience in handling this type of work for customers in Plano and throughout the Dallas area.
Signs By Randy can use your ideas for a custom billboard or help you come with a design. You can count on having a custom billboard that potential customers will easily spot and pay attention to as they're going by. An expertly-made billboard is a great way to bring in more business or boost attendance for a special event that your business or organization is holding. Our signage professionals can ensure that you have a billboard that immediately catches the eye and make a favorable impression on those who see it. Whether you want a custom billboard that advertises your newest product or a billboard that entices the general public to come to an upcoming event, we can help.
Custom Billboard Design and Printing
Billboards are a big investment for your company or organization, but they can pay off significantly in terms of increased business. To do so, your custom billboard needs to have an appearance that creates visual interest and makes it easy for potential customers to read the wording on it. Signs By Randy has several years of experience in creating high-quality billboards for a wide range of clients throughout the Dallas area. We can make sure that your billboard has a striking design that attracts immediate attention. We welcome you to share your ideas and preferences with us during the design process. If you don't really have a solid idea in mind for your billboard, our experts can make suggestions based on what your company or organization offers.
At Signs By Randy, we know how important it is to have high-quality prints for your custom billboards. Our company is dedicated to making sure that we provide superior printing results for each and every customer. When you have a custom billboard made with high-quality materials and equipment, it helps you ensure that the wording stands out and can easily be read by those passing through the area. Any images or logos you have on your billboard will also be of the highest quality.
Billboard Installation
Since a custom billboard is such a big marketing investment for your business or organization, it's crucial to make sure that it's installed correctly and securely. After designing and printing your billboard, Signs By Randy can take care of the installation process. Our experts know how to properly place custom billboards and ensure that they are firmly and safely installed. Whether you need a large billboard that advertises your products or services or a smaller one that simply shows your company or organization's name and logo, we're available to install it. We can install any size billboard and ensure that it stays fixed in place for as long as you need.
With our billboard installation services in the Plano area, you'll be able to reach a much broader audience and increase your business opportunities overall. Outdoor signage and billboards that are expertly designed, printed, and installed can help you gain a large amount of business. When you're thinking of investing in a custom billboard for your company or organization, you can rely on Signs By Randy to be there to help. We'll provide you with expert advice and service from the initial design to the installation of your custom billboard.
If you would like to know more about our custom billboard services in Plano and throughout the Dallas area, contact Signs By Randy. We'll provide you with a free estimate and help you get started on your billboard design.