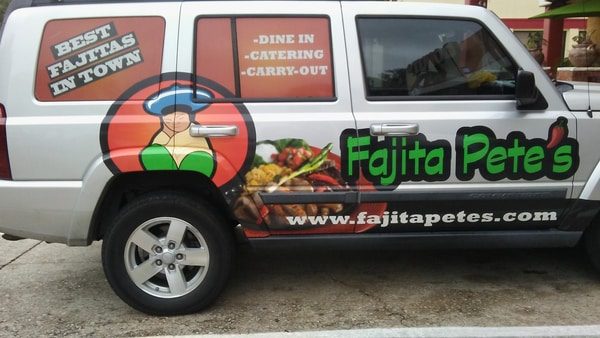 The food truck business is competitive, but having an eye-catching truck can help you stand out. One way to do this is by outfitting your food truck with aesthetically pleasing wrap or decals that represent your business. Your truck can have your logo, website, and phone number displayed on it.
Here, we break down how wraps and decals can modify the appearance of your food truck without having to paint it.
Food Truck Vehicle Wraps
Applying a vehicle wrap is a great way to alter your food truck's look without spending the time and money on a paint job. We will work with you to create a unique design that showcases your business. From high-quality printers to professional installation, we will make your truck look incredible. Along with our design services, we can also apply a wrap to your food truck correctly so it looks its best. With a vehicle wrap, you can compliment your great food with an attractive design.
Food Truck Decals
Decals are another way to personalize your food truck. Food truck decals can bring awareness to your brand with an attractive and professional look. With decals, you won't have to have a full wrap to transform the look of your truck. Decals can depict your logo, phone number, and website.
Not an artist? Not a problem. Our experts can take your ideas and turn them into beautiful designs. Not only do we design the decals, but we also make and apply them for you. You'll have quality every step of the way.
Food Truck Signage in Plano, Texas
If you're in the Plano, Texas, area, our talented team can give your food truck a great look to help it stand out. Founded in 1990, we have years of experience and can put our knowledge to work for you. When you come to us for your food truck needs, you'll learn why so many of our customers have given us five-star reviews. We look forward to giving your food truck a one-of-a-kind appearance.