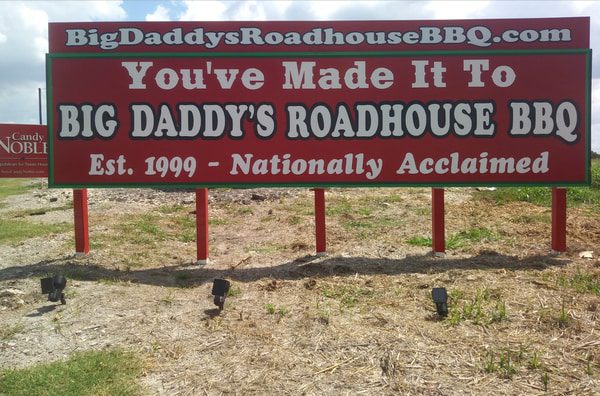 In a recent study, 50 percent of business owners said that their onsite business sign was the driving factor in making the community aware of their presence. Word of mouth came in second, and newspaper and radio were found to be way less effective than signage. So what are the different types of outdoor signs? Read on to learn more.
Banner Signs
Ideal for promotions and events, banner signs will help you get the word out about a special sale, annual gathering, or temporary promotion. The beauty of custom banner signs is that they are relatively inexpensive and easy to display – simply hang them up during a promotion to generate buzz and store them when you don't need them. As long as they are stored correctly, banner signs can be used multiple times, which makes them a great investment.
Billboard Signs
On average, American families spend about 20 hours in their cars per week and travel more than 200 miles. 71 percent of people look at billboard signs, which makes them a great way to advertise your business.
Billboards are ideal if you want to generate interest in your business and pull in drive-by traffic. This is especially true if your storefront sign is not visible from major thoroughfares. As many as 32 percent of drivers have visited a business after seeing their billboard advertisement within the same week, and around 24 percent of them stopped immediately.
Directional Signs
Directional signage includes signs that welcome people or show them where to park and where to pick up their merchandise. These signs can go a long way in helping people feel comfortable and well cared for at your business. It's all about creating an enjoyable, stress-free experience.
Branding Signs
Building a brand is extremely important for every business, but it's especially important for businesses that are visible in their community but not visible in a traditional shopping district. Such businesses include realtors, landscapers, contractors, designers – anyone who has a desire for their work to be seen and associated with their brand.
Branding is a great form of advertisement because it builds connections in consumers' minds without them even realizing it. Take real estate agents, for example. If an agent puts a sign out in front of every home they sell, their name or brand will become synonymous with real estate. When someone gets ready to hire a real estate agent, they will likely think of an agent whose name they've seen before.
Storefront Signs
Storefront signs are perfect for providing ultimate visibility. If you want people to know where you are, you must have a striking sign that's clearly visible from the road. Such a sign will alert the community to your presence and invite them in to see what you're all about. Your storefront sign is perhaps the most important investment you will make for your business.
Digital Signs
If you want to customize your sign and change things up, think about installing a digital sign. A digital sign will allow you to change lettering and special effects with some simple programming. Flashing lights, backlit effects, and customized messages can all do their part to wow customers and pull them through your door.
Digital signs are suited for many different types of signage needs, including storefront signs, message boards, menus, and flash advertising. If you have a message you want to deliver, a digital sign will help you do it.
As you can see, there are numerous types of outdoor signs that can help boost your business' visibility and presence within the community. For more information about the power of outdoor signage, contact Signs by Randy. They provide graphic design, printing, and installation for all kinds of outdoor signage.