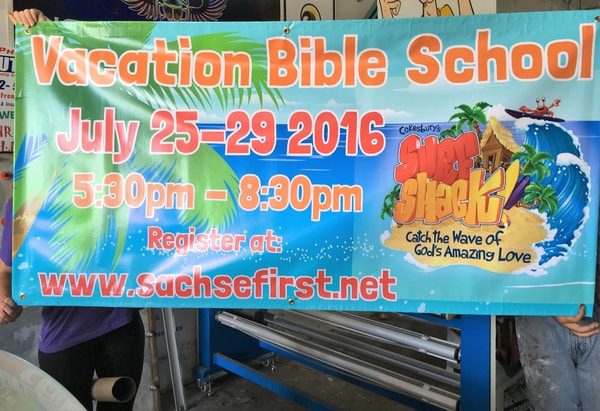 Vinyl banners are a wonderful marketing tool – they can reach a wide audience with very little effort on your part. You can quite literally stand back and watch them work. Like anything, though, it's important that they make the best possible first impression. The right design should be eye-catching and have a call to action that inspires people to either come into your store or purchase your product and services. In addition to finding the right design, finding the right spot to hang a banner can make or break how successful it is in reaching potential clients. Read on to make sure you are making the most of your banners.
Effective Banner Placement
In order to figure out the best place to hang your banner, you must identify your target audience. Once you've identified who you want to see your banner, you'll need to figure out where the highest-trafficked spots in your area are for that target audience. It's important to consider factors besides location. You will also want to keep the most suitable and convenient time to reach your target audience in mind. Think about when and where they will likely be in a good mood so that you can capitalize on associating your business with those feelings. Keep these things in mind as you continue reading about some of the most popular places to use banners.
1. Busy Intersections
Busy intersections have a lot of traffic, which means more eyes that can potentially see your banner. Look for grassy areas to post your banner or drape it over a building or a bridge, making sure to obtain any necessary permissions from the city or owner beforehand. You may have to rent the space but the potential to reach a large number of potential customers can make the investment worthwhile.
2. Highways and Overpasses
Similar to intersections, highways and overpasses often see a ton of traffic, which means a steady stream of potential clients and customers. Renting space to post your banner on nearby buildings and bridges can help you make sure that you are reaching the many people who pass by those highways and overpasses every day. Bridges and overpasses are typically owned by municipalities, counties, states, and railroad companies, so they can be a little trickier to land placement, but the potential exposure could make the hassle worthwhile.
3. Events
Fairs, athletic events, art shows, and other such events are the perfect opportunity to target specific audiences you want to be drawn in due to their shared interest associated with the event. Knowing the audience present will have specific interests that allow you to better tailor your promotion strategy. You will probably be asked to pay a fee to advertise at the event, but you may also be given prime spots for advertising if you are an event sponsor. Prime advertising spots give you the chance to set up a table and show off your goods and services to the patrons passing by.
4. Outside Your Competitor's Place of Business
It takes a gutsy business owner to throw down the gauntlet and advertise near a competitor. Staking a claim near your competitor's place of business reminds their customers that there are always other options to consider. If they are dissatisfied with your competitor's service, odds are they will be giving you a call next. This can be especially beneficial when your competitor is located in a shopping center or highly populated area and your business is not.
A Banner to Remember
There are many factors to consider when figuring out how to make the most of your banner and it can feel overwhelming. Placement, design, even making sure the colors selected will be legible to red-green colorblind individuals – there are a lot of decisions to make. Our skilled staff at Signs by Randy can help you make sure that your banner will be noticed by all the right people for all the right reasons. The sooner you call us, the sooner you will have a banner that will persuade all sorts of potential customers to call you.