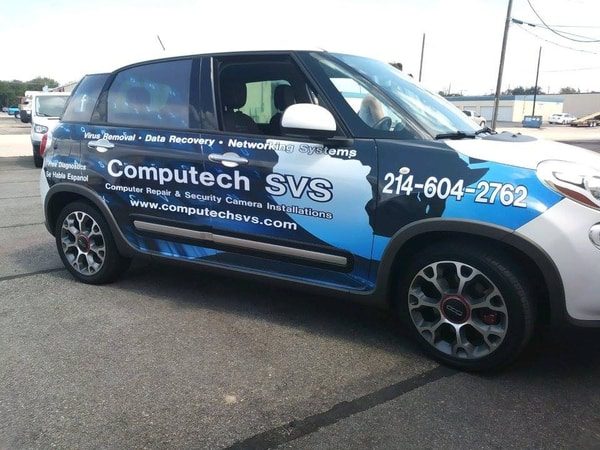 Vehicle wraps are an inventive way to change the look of your car or to advertise for your company or event. Signs By Randy is the leading car wrap expert in the Plano area and has been installing high-quality custom car wraps for over 20 years. Signs By Randy is dedicated to the service of our clients including keeping them educated on the newest techniques of custom signs, vehicle products, and decals. Here are some debunked popular car wrap myths in case you have reservations!
Vehicle Wraps Will Tear Off the Original Paint on My Car
Vehicle wraps are made of high-quality vinyl that is designed to protect the body of your car from the elements. While older cars with rust spots and peeling paint or incorrectly installed vehicle wraps can remove some paint, you won't have to worry about that with our professional team. Signs By Randy's car wrap professionals have years of experience wrapping vehicles of all ages. We follow the best installation practices and teach you how to properly care for the wrap. Plus, our team will safely remove the wrap for you.
Vehicle Wraps Are Really Expensive
Vehicle wraps are less expensive than repainting your car. The materials, labor, and design cost less and don't require as much time as a custom paint job. Additionally, car wraps preserve the original paint underneath so you can receive the most value for your car when you re-sell.
Anyone Can Install a Vehicle Wrap, so Why Would I Pay a Professional
While anyone can paint a house, write a book, or dance a number, not all of those things will look, read, or move how they should. It takes time, energy, training, and education to do those things exceptionally well. You get what you pay for when finding someone to wrap your vehicle. A professional, like the team at Signs By Randy, can wrap your car without the risk of bubbles or noticeable seams. You also receive the benefit of using higher-quality materials on your car to protect it from damage. Our professional graphic designers can create the look you want so your business or personal interests look amazing.
A Wrapped Vehicle Is a Target for Theft
Our experts aren't exactly sure how this myth started but it simply isn't true. There is no factual evidence supporting this claim. However, we do know that vehicle theft is common for cars that have been left unlocked, valuables are visible in the front and back seats, and when the vehicle is left warming up with the keys still in it.
Vehicle Wraps Take Too Long and Don't Last
A new paint job for a car can take one to three weeks depending on the complexity of the paint job. A car wrap, on the other hand, can take two to three days depending on the number of panels. Vehicle wraps last 5 to 7 years. (This time varies depending on how you care for your vehicle).
Now That The Myths Are Debunked, It's Time to Wrap It Up
If you are looking to get your car wrapped by a professional team that puts your needs first, then there is no better team than Signs By Randy. Our professional graphic design and car wrap installation team love working with both individual and commercial car wrapping projects. We hope to transform the Plano, Texas, roads with gorgeous cars that are protected by our car wraps. Seeing the smile on our clients' faces the first time they see their car is an added bonus of the job! Contact Signs By Randy today to find out how we can transform your car or for more information on our services!