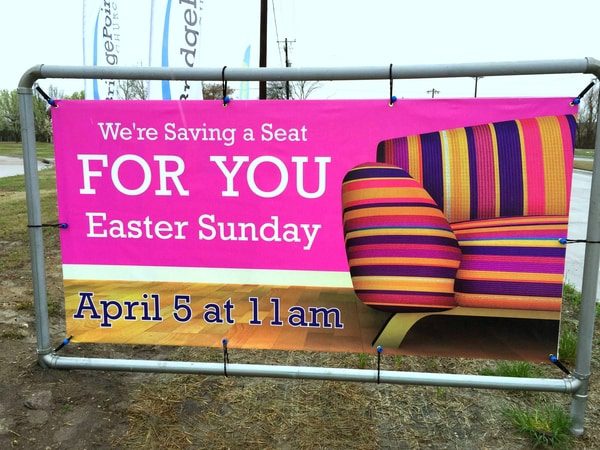 While many businesses are focusing their efforts on digital advertising this year, the reality is that no online ad can replace a good old-fashioned sales banner! When properly designed and printed, a great holiday sales banner can draw shoppers into your store, inform them of a special sale, and boost profits. Plus, sales banners are extremely cost-effective and just plain fun to create.
Not sure where to begin when it comes to creating a gorgeous holiday sales banner? We've got some tips for your business.
Grab Attention With a Bold Font
While you probably don't want to have your entire banner message in bold (this kind of defeats the purpose), putting some keywords and phrases in a bold font can help to get the most important details across. You might even consider putting your bold text in a different font than the rest of your banner to help it stand out even more.
What kinds of phrases should you call attention to with bold font? Exclamations like "one day only!" or "sale!" are some common examples. Ultimately, it's all about what you want your readers' eyes to be drawn to first.
Make Sure Sale Dates Are Clearly Visible
One of the most important details of your holiday sales banner that you'll want to clearly communicate to your customers is that of the sale dates. This is extremely important if your sale or special is only being held for a limited time. This is the type of information shoppers will want to know right away, so make sure you call plenty of attention to this information on your banner.
This is especially true if you're holding a sale for a very limited time, such as a one-day Black Friday sale or a last-minute promotion. By highlighting the "limited time" aspect of these special deals, you can create a sense of urgency that will encourage shoppers to make a purchase.
Include Charity Partnership Information
Is your business partnering with a charity or other organization this holiday season? If so, then this is a great piece of information to include on your holiday sales banner. After all, shoppers will feel better about spending their money on your products or services if they know that a portion of it will be going to a charitable cause.
When coming up with wording for your sales banner, consider phrases such as "in partnership with…" and then list the charity or organization name. Be as transparent as possible to your customers about how sales will benefit charity, but try to keep things short and to-the-point on your banner as well. Remember that your employees can always provide shoppers with more information upon request.
If you are partnering with a charitable organization this holiday season, you might also consider combining this with special discounts or promotions on Giving Tuesday or other notable dates. This can be a great way to drive more sales while also helping your chosen cause.
Display Special Products
A little imagery can go a long way in making your holiday sales banner an eye-catching one, too. Consider, for example, highlighting some special products on your banner—especially those that are exclusive to your store. For best results, combine this imagery with complementary colors to make the product "pop" on the banner itself. 
If you decide to incorporate some imagery on your banner, it's important to stick with a more neutral and subdued font. This will prevent your banner from looking too "busy." One of the most common mistakes we see businesses make is that of creating banners that have way too much going on. When this happens, readers get overwhelmed when they see your banner and may end up not paying attention to any of it—which, of course, is the opposite of what you want!
Highlight Important Information
One of the best pieces of advice we can give when it comes to designing a great holiday sales banner is to figure out the most important information you want to communicate and find a way to highlight it in your design.
This can be challenging because you might have a lot of information you want to get across. The key is being able to narrow this down to just a few things that you can really display and highlight on your banner. Stick with details that will be most likely to draw customers directly into your store. From there, your employees and other signage can do the work of finalizing the sale or providing more information where needed.
Need Help Creating Your Holiday Sales Banner?
Feeling overwhelmed by all the information you need to keep in mind when designing a holiday sales banner? Signs By Randy has you covered! We have the experience and expertise needed to create eye-catching, beautiful banners that will get your business noticed! Contact us today to find out more about our services or to get started with your holiday banner design!