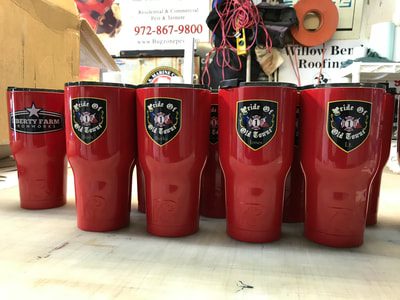 Business owners want to promote and advertise their businesses in the best way possible. When considering a promotional product, you have two possible options: stickers and decals. What is the difference between a sticker and a decal? Is one better than the other? In this blog, the expert graphic designers at Signs By Randy explain the difference between a sticker and a decal.
What Is a Decal?
A decal is a sticker made to be used outdoors; however, not all stickers are decals. Decals are created by using three different layers of paper and vinyl material. Vinyl decals are typically laminated, so they're hardy enough to withstand the outdoor elements.
What Is a Sticker?
A sticker is a type of label and is great for indoor use and on commercial products, such as bottles, jars, or as product pricing.
Longevity
Outdoor decals generally have a lifespan of up to three years, perhaps longer, depending on the environment.
Stickers can have a lifespan of up to 8 years of indoor use. If using a sticker for an outdoor product, such as on a car, the lifespan can drop considerably because most stickers are not built to handle the outdoor elements (e.g., rain).
Vinyl decals have more longevity because they're water-resistant and can withstand damage and tearing. When exposed to outdoor elements, stickers can fade and lose adhesive when wet.
Usage
The method of application is the biggest difference between stickers and decals. Stickers require you to remove the backing to adhere to a surface, and decals can be applied and reapplied. Stickers can be ripped off pretty easily and replaced, and a decal was designed to stay in place and blend into the area in which it was applied.
Decals and Stickers Created By the Specialists at Signs By Randy
If you choose stickers or decals, Signs By Randy can help you create the perfect one for your business. Whether window decals to promote your business, wall decals for the home or commercial use, or a car decal to take your advertising on the road, we can help you make your vision a reality! We also can help you design beautiful stickers to pass out to your clients or to promote your business at job fairs. Give the expert team at Signs By Randy a call today for more information and a consultation!