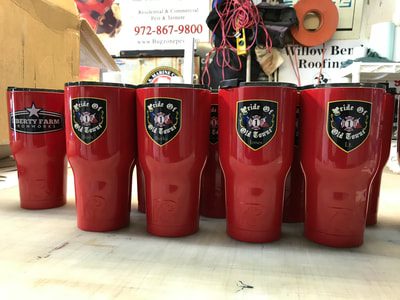 Looking to spread awareness of your brand through promotional items? If so, then of course you'll also want to incorporate your company name and/or logo onto each piece of swag. Not sure where to begin when it comes to using your company logo in swag? We've got some tips to help you get started.
Choose the Right Swag to Place Your Logo On
It all begins with selecting the right type of swag to place your logo on. The right promotional items can help you create an inviting and positive image for your business. Likewise, making sure your logo is placed on modern, trendy, and relevant items can help to boost employee morale, create an incentive for new customers, and push your brand to stand out from the competition.
Meanwhile, if you'll be handing out promotional items at an upcoming event (such as an industry trade show), then you'll also want to make sure that the swag you're giving out will be relevant to the people in attendance. Consider a couple of common "types" of swag below, as well as some ideas for each!
Employee Recruitment Swag
If you're looking to bring in some new employees, handing out swag at job fairs or interviews can be a great place to start. One of the most common options here is to have some pens made up with your company name and logo on them. T-shirts are also commonly given out at job fairs and similar events. Both pens and t-shirts tend to be effective because they're useful to people and can create a great conversation starter outside the work environment.
Promotional Items for New/Returning Customers
Looking to create swag that will draw in potential new customers or convert existing customers into repeat clients? If so, then you'll want to use your company logo on items your customers will use. Some common examples here include:
There are so many promotional items available these days that choosing the right ones will ultimately depend on your specific audience as well as your marketing budget. The key is to choose items that will be most useful to your audience while staying within your comfortable price point.
What Makes a Strong Company Logo?
As you're choosing which items to print your company logo on, this is also a good time to revisit your logo design. Do you have a strong company logo? If not, then it may be time for a revamp before you send any items out for printing.
Ideally, a powerful company logo should be simple, relevant, and versatile. This means that the logo itself should be easy to recognize, even from afar. This will keep your swag from looking too busy while still creating the brand recognition that you need. Oftentimes, a simple yet effective logo is a symbol or a series of words/letters that match your company's image.
You'll also need to make sure that your logo's image is relevant to the purpose and mission of your company, as this will help to demonstrate your company's unique personality and identity. One way to do this is by using colors in your logo. For example, bright colors are great for brands aimed at children because they are fun and create positive energy. On the other hand, you need to be careful not to use too many colors, as this can be overwhelming to the eye.
Choosing the right font for your logo is also important if you'll be incorporating any letters or words into your logo design. The right font should be easy to read regardless of its size so that it can be consistently used on your company website, banners, swag, business cards, and other applications. At the same time, your font needs to reflect your unique branding. For example, if you're creating a logo for a legal firm, you probably want to stick with a professional-looking font rather than a bold and bubbly one.
Custom Designs and Vinyl Decals That Bring Your Logo to Life
As you can see, choosing the right promotional items and having an effective logo are both extremely important when it comes to your marketing and branding success. If you're feeling overwhelmed by creating the perfect logo design or having your design printed on quality items, the team at Signs By Randy is here to help. We offer professional design services, as well as printing on items ranging from magnets and decals to vehicle wraps and much more.
Contact the Signs By Randy team to find out more about our services or to schedule your free estimate. We look forward to helping your brand grow and thrive!